A journey of a thousand miles begins with a single step.
But then there are 2424000 steps in between as well. Let's make those steps easier and more productive.
Being a digital entrepreneur is fun but you got to stay at the top of everything to keep shining. There was a time we used to sit back and think of systems and solutions for our everyday problems. But now we live in times where there is an 'app' for literally everything.
Fun Fact: There is an app to give you the perfect timing for a washroom break when you are at a movie so that you don't miss any important bit.
In this post, I'll walk you through the tools and apps that have made my life a lot easier as a digital entrepreneur. Everything you dread before starting a business is now a tool away.
So, what are my top tools for blog and business?
1. WordPress For Website
If you happen to be a digital fempreneur in today's time you must have a website of your own or for your business. While there are many tools out there to build a website, the good old WordPress never fails to surprise me with what it can do for me. A simple answer would be – everything. You have a plugin for EVERYTHING.
From search engine optimization to social integration to Woocommerce, WordPress gives you everything under one umbrella. A little technical knowledge is required but that too is pretty easy to learn.
There are many other players out there in the market. We have Wix, Weebly, SquareSpace, and Shopify for similar solutions and it's very possible they suit you perfectly for the kind of website you need. But WordPress is like the one size fits all. Since it is open source and there is a huge community contributing towards it, you have a wide variety of themes, plugins, and other design/function options for your website.
Don't have a website for your business? Read: 6 Reasons Why you need a website for your business?
2. GreenGeeks Web Hosting
I recommend GreenGeeks because I've personally been using them. The website migration process was a breeze. They have good customer support. They are green, that is they use sustainable energy to run their servers. If you are not doing anything to save the environment you can at least invest in a good green hosting company and play your tiny bit.
There are a number of reasons why you need a good hosting company for your website. The major and most important one is site speed. A slow site is directly proportional to lower SEO rankings and reduced traffic to your website.
Read more: The Secret to SEO Blog Content no one will tell you
Many of the well-known hosting companies like BlueHost, HostGator, and others fall under a corporate giant called EIG. While these hosting companies charge similar, they make a big compromise on your website speed because they overcrowd their servers.
It's better to invest in a hosting service that won't give you headaches while you manage other more important parts of your blog or business.
Some of the other good hosting service providers are:
Read more: 10 major Factors hurting your Website Speed
3. Canva for Graphics
Running a business in 2020 we all need good professional-looking graphics. Not all of us can hire good designers right at the start of our business or blogging careers. But social presence is important.
You need to be visible on at least some, if not all, social media platforms. All these platforms need visual content to stand out from the crowd and bring value to your ideal audience.
This is where Canva comes into the picture. With more than thousands of different templates, graphic elements, icons, and text options, Canva has a free and paid solution for your visual content needs.
I have used Canva Pro in the past and continue to use it to this day and so would even recommend them to beginners. It's easy and saves a well of time.
4. Creative Market For Templates
Creative Market is a huge resource for Social Media Templates, Web Design, WordPress Templates, independent graphic elements, stock images, and fonts. These resources are nicely organized with affordable prices and help documents to get you settled.
I personally use resources from this website for my client's work as a web designer.
You even get 6 free resources every Monday on sign-up.
Click here to Sign-up now and get 10% off your first purchase.
5. Fiverr for Odd Tasks
As an entrepreneur, you keep running into trifling issues be it in your website, social media or other digital endeavors. You have important tasks up to your sleeves and so you'd rather hire someone to do the job for you.
Fiverr is a great place for that. Starting at $5 you can hire freelancers from around the world to do the task for you. You can literally find all the services in the digital sphere there.
Perhaps you have great video content and need it converted into a nice professional SEO blog post. Get it here.
Have Pinterest Graphics piled up? Get them here.
Need content updated on your website? Need someone to do an SEO audit? Want a basic logo for your business? Everything you could potentially need as a digital entrepreneur who currently doesn't have a team backing her.

6. Typeform for Surveys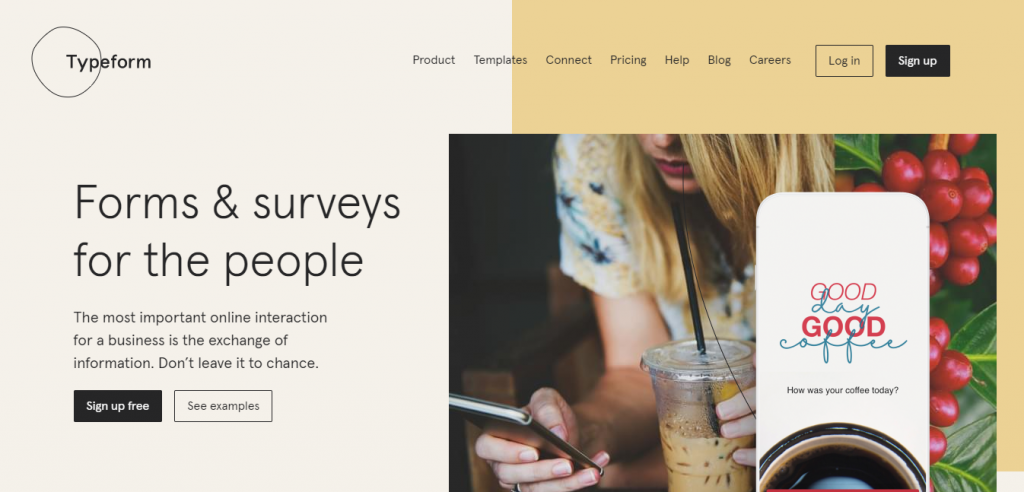 As a digital entrepreneur data is your best friend. The more sense your data makes the more sense you can make of your business.
Typeform is a great resource to collect data in forms and display results graphically so you can read your trends better.
7. Trello for Schedules
Planning is key. But planning your content is not that simple. While many people still like to use regular planners or journals for their business, there are a few drawbacks.
You can not carry it around everywhere.
In case you forget your journal in an important meeting or misplace it while on your commute you are gone for good.
Want to share some part of it with your team or a remote worker? Another hassle.
How about having your plan go with you everywhere?
In your cell phone, on your desktop, and when not in reach of these devices, on the cloud. Easy to access from literally everywhere.
Trello is a great tool for entrepreneurs. I love to create my content calendar with Trello so it can be accessible everywhere all the time and editable on run time.
Planning is key but original plans seldom work. You need to keep reiterating and revising them to stay consistent. Life comes in between and handwritten plans become a mess under such circumstances.
Read how you can use Trello to schedule your content in my blog post on Create a Visual Content Calendar for Your Blog or Business.
8. Google Docs for Drafts
You know about this one and I'm pretty sure you use it too. But not many people know what this tool can give you.
Have multiple revisions of the same document? Google docs save them for you.
Have to share your document with many people in a team?
Need to chat with someone while editing a document?
Need to comment on a change someone made?
Want to see who made what changes?
Need to suggest new changes?
Want to edit a document with your team members simultaneously?
Pretty much everything MS Word covers and much more all under one Google Document.
9. Grammarly for Blog Posts
If you are a native English speaker and run into minor errors in your written English, Grammarly is the perfect app for you. I would only recommend the free version of the app as it highlights some grave spelling mistakes and everyday grammar errors for you.
If you need readable and everyday grammatical-error-free posts/documents go for the free version of the app. If you need more I would suggest you hire a remote/local editor for your content. Or go for the pro version if you please.
10. Tailwind For Pinterest
If your main area of focus for promoting your content to your audience is via Pinterest and Instagram Tailwind might be for you. It offers a very systematic and organized schedule for your Pinterest accounts.
Pinterest now offers scheduling in the Pinterest app/website as well but for now, it is limited to a few posts per month.
11. Buffer and Hootsuite for Social Media
Managing social media on your own is cumbersome. Especially when you are an entrepreneur with greater tasks up your sleeve.
You can go and hire a social media manager who handles all the social accounts for you, does the customer support part on social media, and lets you in on the statistics.
Or if that is a bit too expensive for you, you can go for apps that help you do that.
Buffer and Hootsuite are two apps that help you schedule your content on almost all major social media platforms out there like Facebook, Twitter, Instagram, LinkedIn, and Pinterest.
These are my favorite tools that have helped many fempreneurs like you out there. Are there any tools you find most helpful for you and your blog or business?